Nedap has been listed on Euronext Amsterdam since 1947, trading under the ticker symbol NEDAP and ISIN code NL0000371243. Nedap is included in the smallcap index. All Nedap issued shares are ordinary shares with a nominal value of €0.10. As at 31 December 2020, a total of 6,692,920 shares were issued.
Visit the Euronext site for an interactive chart and more details about the Nedap share.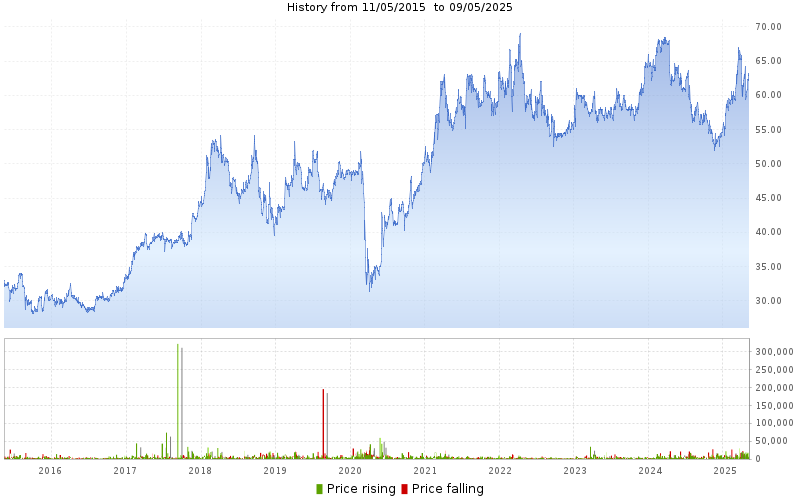 Dividend policy
Nedap's dividend policy ensues from the company's strategy and longterm policy. The policy is made based on a careful assessment of how much of the profit is deemed necessary for investments in profitable growth and the intended financing structure. The remaining amount is paid out to shareholders in full.
Relevant dates in relation to dividend (payments) are included in the financial calendar.
Substantial participations
In the context of notifications regarding major holdings and capital interests, stakes of 3% or more in the issued share capital must be reported to the Dutch Authority for the Financial Markets. The table below lists all notifications to the Dutch Authority for the Financial Markets as per February 2021.
| Shareholder | Stake in Nedap |
| --- | --- |
| Cross Options Beheer B.V. | 14.61% |
| Teslin Participaties Coöperatief U.A. | 10.19% |
| Kempen Capital Management N.V. | 10.00% |
| NN Group N.V. | 9.97% |
| ASR Nederland N.V. | 8.20% |
| Decico B.V. | 5.01% |
| N.V. Nederlandsche Apparatenfabriek "Nedap" | 4.14% |
| Add Value Fund N.V. | 3.36% |
Liquidity provider
Since March 2020 Kepler Cheuvreux is the company's liquidity provider.
Analysts
Nedap is followed by the analysts which are listed below. Please note that any opinions, estimates, forecasts, and recommendations made by these analysts are theirs alone and do not represent opinions, forecasts or predictions of Nedap or its management.
Analysts who follow Nedap actively:
Berenberg – Trion Reid
Kepler Cheuvreux – Matthijs van Leijenhorst
Nedap has been selected to be part of the European Rising Tech label. This label recognizes the most performing and emblematic growing SMEs listed on Euronext markets.